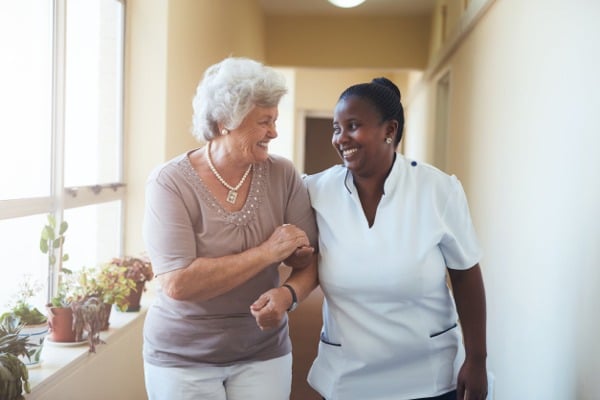 I work with numerous nursing homes, assisted living, and other health care facilities to help professionals better understand how to be better care partners to persons living with dementia (PLWD).
I use the Positive Approach to Care™ (PAC) developed by renowned Occupational Therapist Teepa Snow, which has proven to be the cutting-edge methodology for optimum dementia care training in professional settings.
There are six key elements of the PAC process, and I like to stress one in particular:  Collective Effort, or the power of teamwork.
We conduct workshops on this, in conjunction with the care facility. Since much of the care required for a PLWD is individual, it's easy to fall into a mindset that one or two people should take primary responsibility for that person's care. And while most of care may be assigned to one or two people, there are advantages to working together in a cooperative effort.
The workshop gives real-world examples of how a cooperative effort can better manage the work and stress that professional care partners experience. We emphasize how to derive fulfillment from the care process. This can lead to better care, as staff members feel more personally connected to each PLWD's care and to their fellow care partners. Staff members become cheerleaders for each other and more responsive should one care partner need assistance. This has a significant impact on workplace contentment, which translates into less turnover, fewer extreme situations in care, and ultimately, greater profitability for the care facility.
The results can be a significant "win-win" situation for both resident care and the facility bottom line.
To learn more about our workshop and the PAC process, start a conversation with me here. I'm happy to answer questions, learn more about your facility, and focus on areas where instruction can make an impact.
Subscribe to our free newsletter.
For those who care for Persons Living With Dementia (PLWDs), you've seen how quickly things can get out of hand, as the person in your care faces an obstacle and becomes upset and frustrated. This is common, and it's a challenge for the care partner—because often, an escalation with the PLWD leads to an escalation […]

Think about what happens when you have too much going on at one time. The TV's blaring. Kids are asking permission to do things you'd rather they didn't. The phone's ringing and you're getting a text. And you only have another 30 minutes to get dinner ready. Pretty overwhelming, isn't it? Now think about doing […]