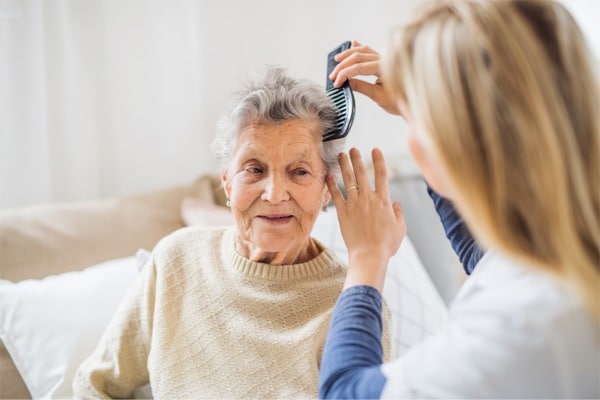 When I counsel families and the family members who will provide care for the Person Living With Dementia (PLWD), we talk about a lot of serious topics—how to handle inappropriate behaviors, sudden changes in behavior, and practical day-to-day issues.
Caring for a Person Living With Dementia can be daunting, and our process gives family members the tools needed to keep everyone safe and to provide the PLWD with the best possible quality of life.
And that's something very important to remember. Even though the PLWD has many challenges in negotiating everyday things that used to be simple, he or she also has many moments where there can be comfort, or joy, or fun.
And if you're the person's care partner, you get to experience those, too. That's why I stress this to everyone providing care: It's a gift for you, too.
There are few things more noble than helping care for another human who needs help. As parents, we're rewarded over and over again when children accomplish new things or have experiences where family members bond. That same sense of reward can be felt when helping a PLWD accomplish something that seemed difficult, or when the person experiences a moment of lucidity and can recall joy from past experiences.
You've done something important and meaningful for someone else.
We've been conditioned (particularly as Americans) that we're supposed to be independent and self-sufficient, and overcoming this perception is a key to being a good care partner. Sometimes, for a PWLD to maintain independence, it takes a little help. And if you can give that as a care partner, you should feel you've accomplished something—and celebrate that opportunity.
I've talked with many family care partners who understand that by helping a parent or spouse or other loved one, they're giving back care that was administered to them, either as a child or as part of the family dynamic. As you understand this, the burden of care is lifted a bit.
You're giving back. You're creating an even stronger bond with someone dear to you. And even if the person living with dementia can't always acknowledge this, it still is an important experience.
As a care partner, it can be easy to get bogged down with the day-to-day annoyances or challenges. But when you can keep the "big picture" perspective in mind, these take a back seat to what's really important.
Looking after someone very important in your life.
If you'd like to know more about how Dr. Tiney Ray and Lyght Bulb Moments can help your family with a care partner plan and counseling, click here.
Subscribe to our free newsletter.
For those who care for Persons Living With Dementia (PLWDs), you've seen how quickly things can get out of hand, as the person in your care faces an obstacle and becomes upset and frustrated. This is common, and it's a challenge for the care partner—because often, an escalation with the PLWD leads to an escalation […]

Think about what happens when you have too much going on at one time. The TV's blaring. Kids are asking permission to do things you'd rather they didn't. The phone's ringing and you're getting a text. And you only have another 30 minutes to get dinner ready. Pretty overwhelming, isn't it? Now think about doing […]